Last week on Wednesday, February 15th, Kevin Rosario, Director of Community Outreach traveled to Nantucket to speak to the students of Nantucket High School, their parents, and the students of Cyrus Pierce Middle School. It was truly an amazing partnership with Nantucket High School and the Friends of Nantucket Public Schools, bringing together strong advocacy and community collaboration to serve these students. 
Kevin spoke to the high school students in two groups Wednesday morning, and then the high schooler's parents in an evening session. The evening session reinforced what was discussed with the students in the morning, to facilitate healthy discussions at home about positive choices, the science of addiction and impact on the developing brain, as well as refusal skills. 
Special thank you to Hadley Dutra, Candice Tetreault, Principal Mandy Vasil, Kristen Dussault, and Brent Tartamella for making this event possible.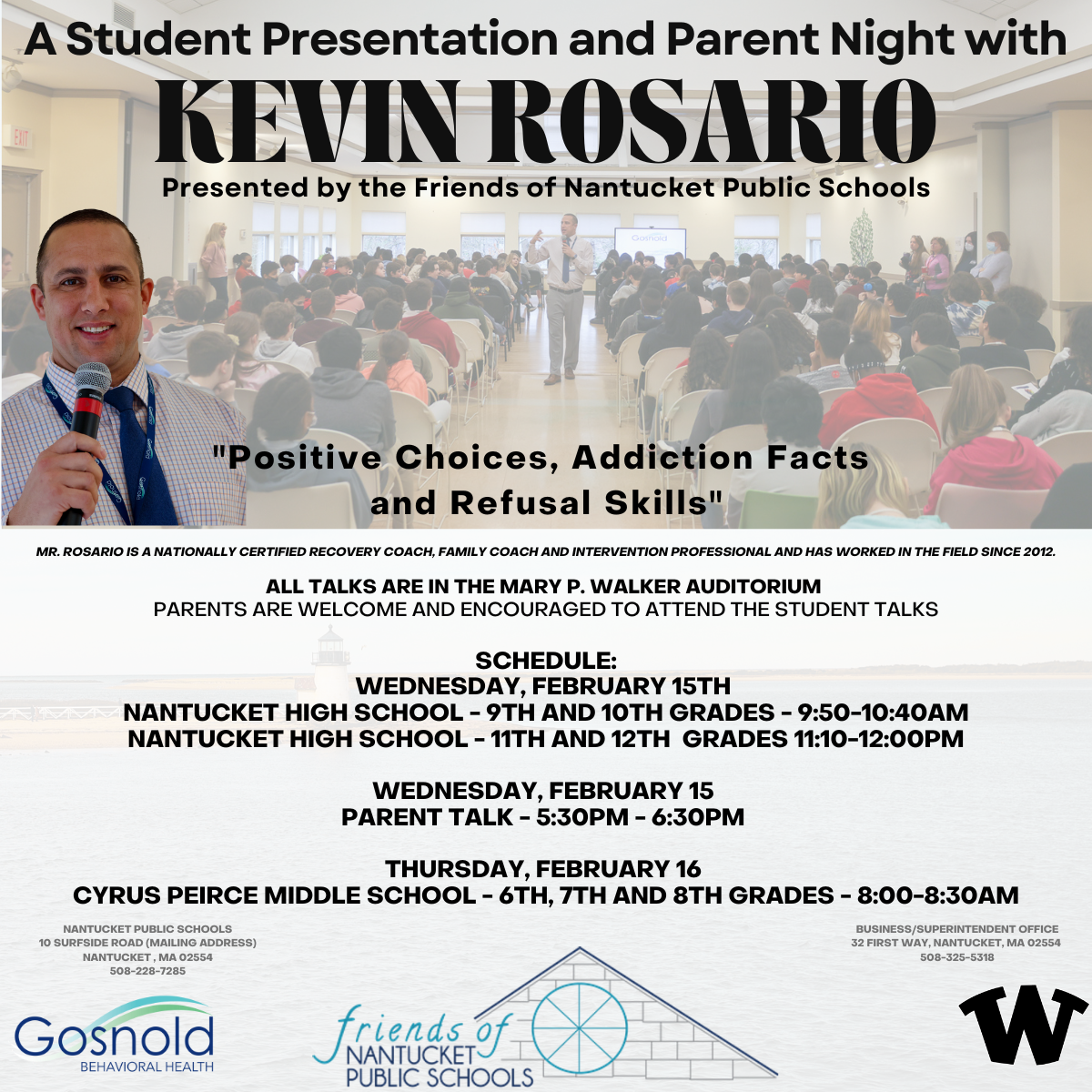 "We have a crisis in our Nantucket public school system. Middle schoolers and High schoolers are vaping in great numbers. Some cannot stop. While this is happening in many places across the country, we do not have the same systems of support to meet this issue, being 30 miles out to sea.
We've had 2 recent island deaths (adults), fatal fentanyl overdoses, where VAPING DEVICES LACED WITH FENTANYL were the lethal means. We've had countless lethal fentanyl overdoses in recent years, but not by vaping devices.
We must make a direct correlation between these 2 vaping deaths, and the issue of island youth vaping, and respond swiftly, as a community.
The Nantucket Public School System is doing its level best to respond this crisis with our youth; it is neither responsible nor realistic to expect them to manage it alone. They do not own this problem. Our community owns this problem. Solutions and community support are vital.
In order to begin generating solutions, our island community at large brought in Kevin Rosario."  – Candice T. 
Check out some highlights from Kevin's presentation below!
Gosnold assists family members and loved ones at all stages of addiction through education, intervention, and support.  We offer weekly family support groups free of charge for any one in need. Please visit https://gosnold.org/family-resources/ for more information.